Recently, I've been really into eating brunch every Saturday; however, instead of going out to eat my weekly Eggs Benedict, I had a sudden craving for some delicious fluffy french toast or pancakes. After having a long internal debate on where I would go to find some delicious sugary sweet pastries, I decided to whip up my own version of french toast topped with plenty of fruits and a generous serving of whipped cream – as much as my little heart desired.
Prep Time: 10 minutes
Cook Times: 15-20 minutes
Makes 8 slices of thick fluffy French Toast
Ingredients:
8 slices of thick toast

3 tablespoons of flour
2 eggs
2/3 cup of milk
1/2 teaspoon of ground cinnamon
1 teaspoon of vanilla extract
2 tablespoon of brown sugar
a pinch of salt
butter
fresh fruits (optional)
whip cream (optional)
condensed milk (optional)
It took a while to go out shopping for the materials needed (finding thick toast is oddly quite hard); however, the end result was definitely worth it! I ended up buying a loaf of whole wheat bread and took it home to slice to my desired thickness.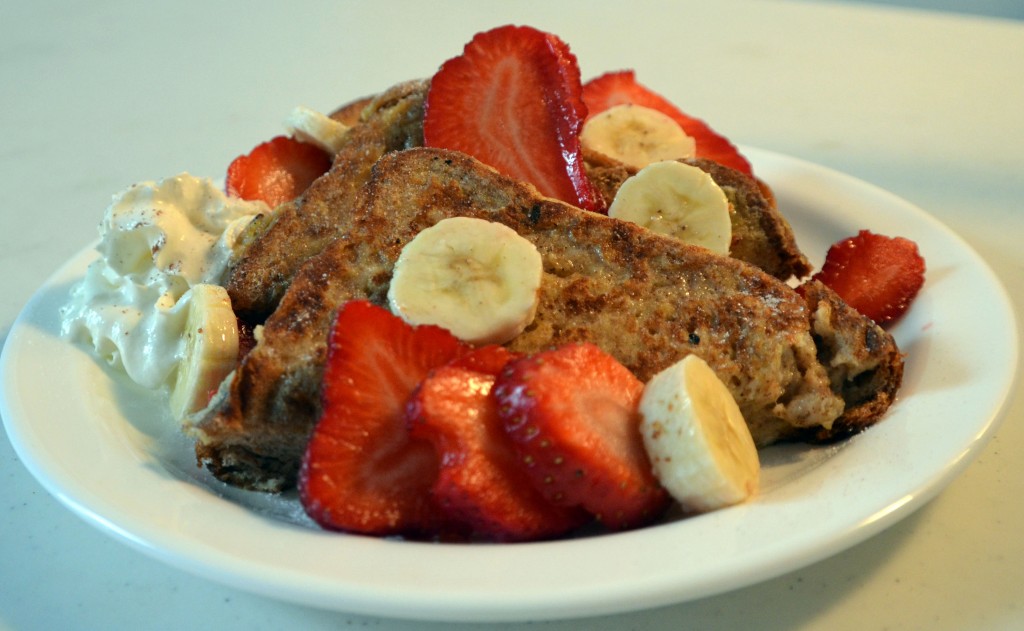 Directions:
Pour the flour, eggs, ground cinnamon, sugar, vanilla extract and salt into a bowl. Whisk the milk in until the mixture is smooth.
Heat a frying pan over medium heat. Melt enough butter to cover the surface area of the pan.
Dip the thick bread into the mixture. Place the bread mixture on the frying pan and grill until golden brown.
Cut the bread into triangular halves and serve with fresh fruits and whipped cream.
Drizzle some condensed milk on top and enjoy!