After being cooped up in my apartment for a day due to the effects of Winter Storm Nemo, I had a huge craving for a hot steamy bowl of ramen. And what better place to venture to than the extremely popular Ippudo NY for amazing authentic ramen? With over 4000 reviews on Yelp, this lovely Japanese restaurant is booming with business filled with locals and tourists alike – so be sure to get there at a off-peak hour if you don't want a long 1+ hour wait!
After staring for a lengthy time at the menu, I finally decided to try the famous Akamaru Modern ramen ($15) while my friend ventured to try the Kogashi Miso Ramen ($16). Per suggestion of our waitress, we ordered the Hirata Pork Buns ($9) – another extremely popular dish – as our appetizer.
When the Hirata Buns arrived, I was pretty much drooling with anticipation – the aroma was magnificent! Not to mention, the folks all around me had wonderful smelling ramen that kept my nose enticed the entire time. I would have scarfed down those bad boys in a second, but I thankfully remembered to grab a few snapshots of them, so I may drool over the pictures at another time.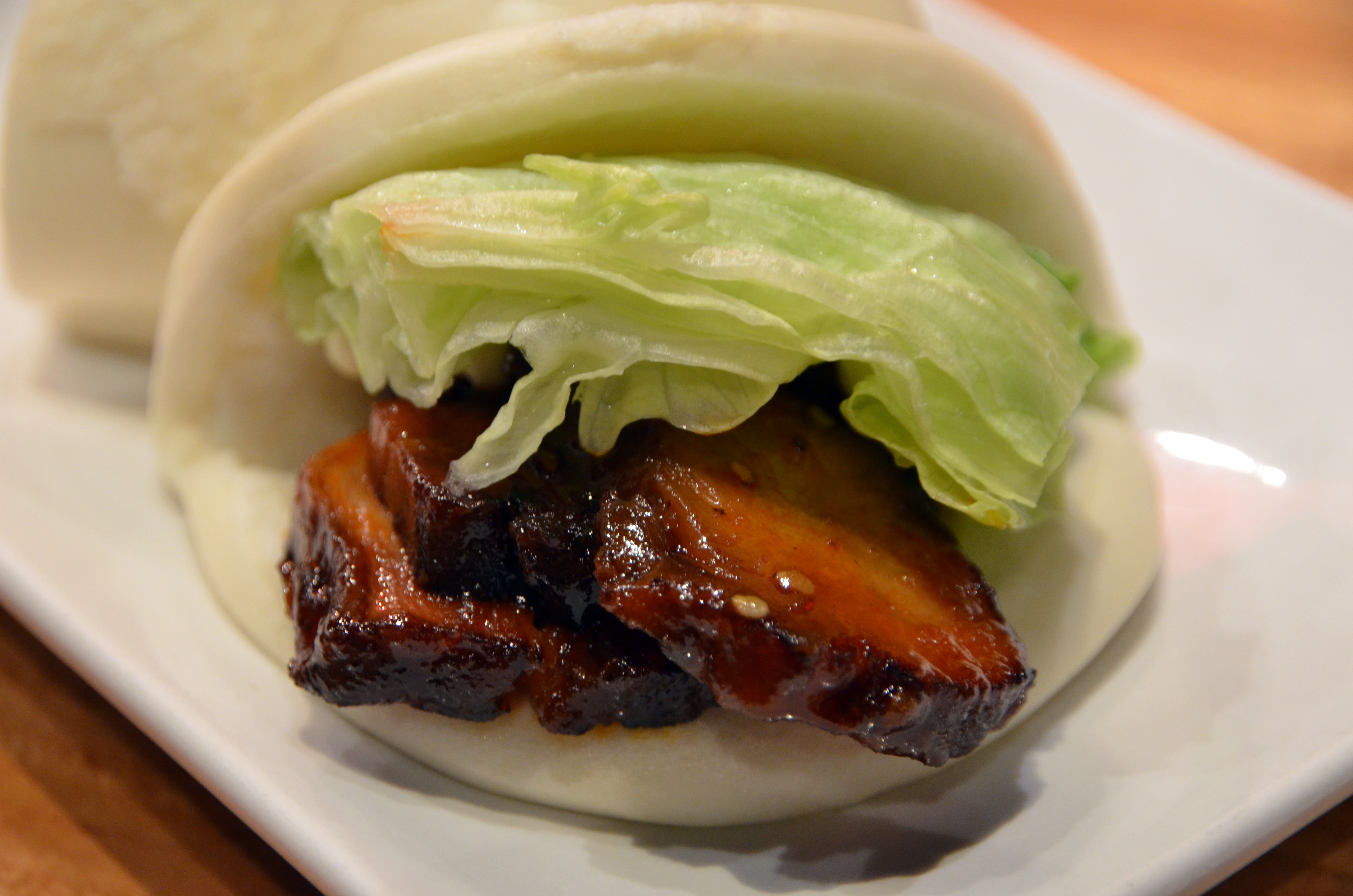 The Hirata Buns are basically two steamed buns filled succulent pork served with Ippudo's original spicy buns sauce. And holy cannoli, the pork belly was amazing! It was perfectly marinated to have a sweet and zesty flavor that a small spicy kick afterwards that mixed so well with the fluffy bun and crunchy lettuce. Also the pork was stewed with a nice fatty to lean meat ratio that allowed the meat to practically melt in my mouth without having me feel like I was eating a mouthful of lard. No wonder so many people rave about this dish! I almost cried when I finished, knowing that there was no more yummy pork buns on the plate. (Why are there only TWO buns?! Why not 10??)
Thankfully my stomach did not have to wait too long for our heavenly ramen bowls to be brought out – hallelujah. The Kogashi Miso Ramen (first picture of this post) looked and smelled amazing with its black charred miso broth (made from chicken and pork broth) topped with some chashu pork, greens and chewy noodles. The miso gave the dish a deep smoky consistency, and the mixture of black sesame in the broth really enhanced the overall miso flavor.
My Akamaru Modern dish was also pretty darn good. The soup is one of Ippudo's original creations, made with Tonkotsu (pork) broth and their secret "Umami Dama" miso paste mixed with garlic oil. Of course the soup is topped off with more succulent chashu pork, scallions, kikurage mushrooms, and thin noodles. Though the soup wasn't as flavorful as the Kogashi Miso Ramen (with it's smoky miso flavor), it definitely grew on me, and I found myself enjoying the broth more and more with every sip.
Of course, the best part for both ramen dishes was the chashu pork. If pork was always stewed this perfectly, I'd eat it every day! Ippudo, you have definitely made a porky impression on me! Honestly, if I had more belly space, I would have lined up to try all the appetizers on their menu, especially the pork belly and ribs (as I said, I am now an official Ippudo pork fan).
However, the one downside to this restaurant is their price as they require extra fees for ramen toppings such as the soft boiled egg (which is normally a staple in the ramen dish at other restaurants) and seasoned bamboo shoots (I honestly love bamboo) – which I find a little off considering the upper scale price for the ramen. But hey, if you really are a fanatic for ramen and soft boiled egg, I guess you'd dish out the extra dough.
But regardless of the cost, if you ever are around the East Village and craving a steamy warm bowl of ramen or pork, this place is definitely the spot for you!
Ippudo NY
65 4th Avenue
(btwn 9th & 10th St)
New York, NY 10003
(212) 388-0088