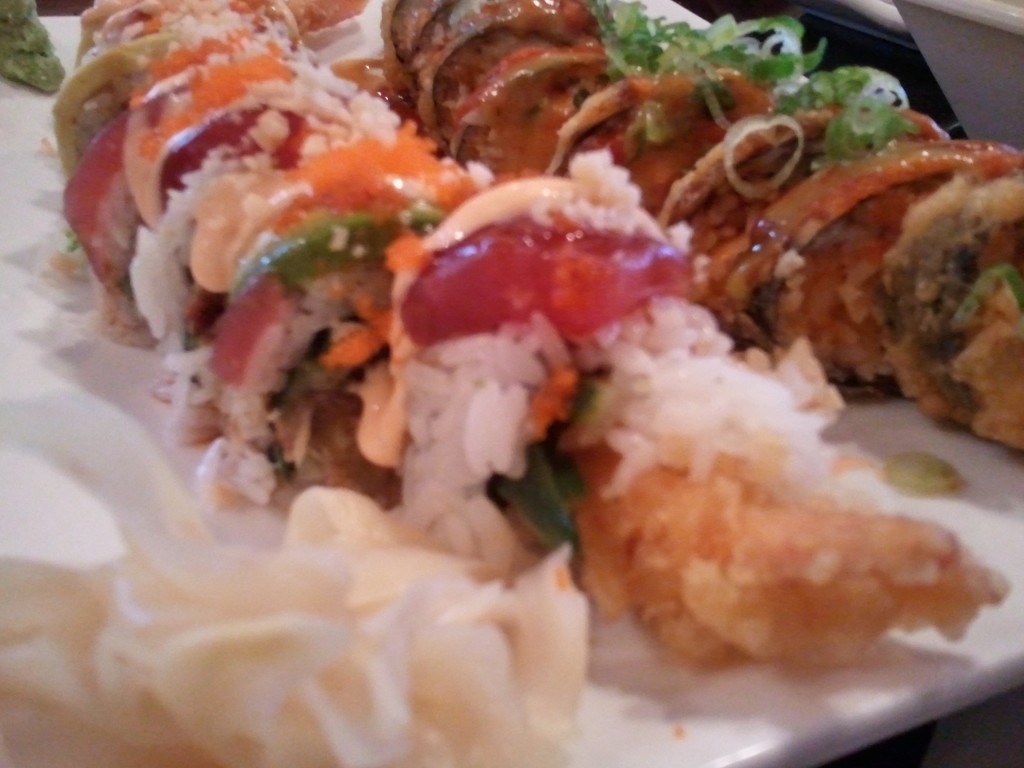 This Japanese Restaurant (Maneki Sushi) has probably the most interesting AND large sushi rolls I have ever seen (in any Japanese restaurant). Though this restaurant is located in a slightly run-down area, don't be fooled! The food and service was nice, and the flat screen TV playing movies in the background is a definite plus (I just happened to be there when they were playing Gran Torino).
It is true that this place does tend to drench their sushi rolls in sauce, so if you're not a sauce fan, this place wouldn't suit your taste buds (unless you order perhaps sashimi). However, the decent price and large portions easily draw in many various customers.
In total, my friend and I ordered three different rolls and one dessert. Before the main dishes came out, we were both served complimentary miso soup and edamame, which is nice as it allowed us to munch on things while waiting for our sushi rolls.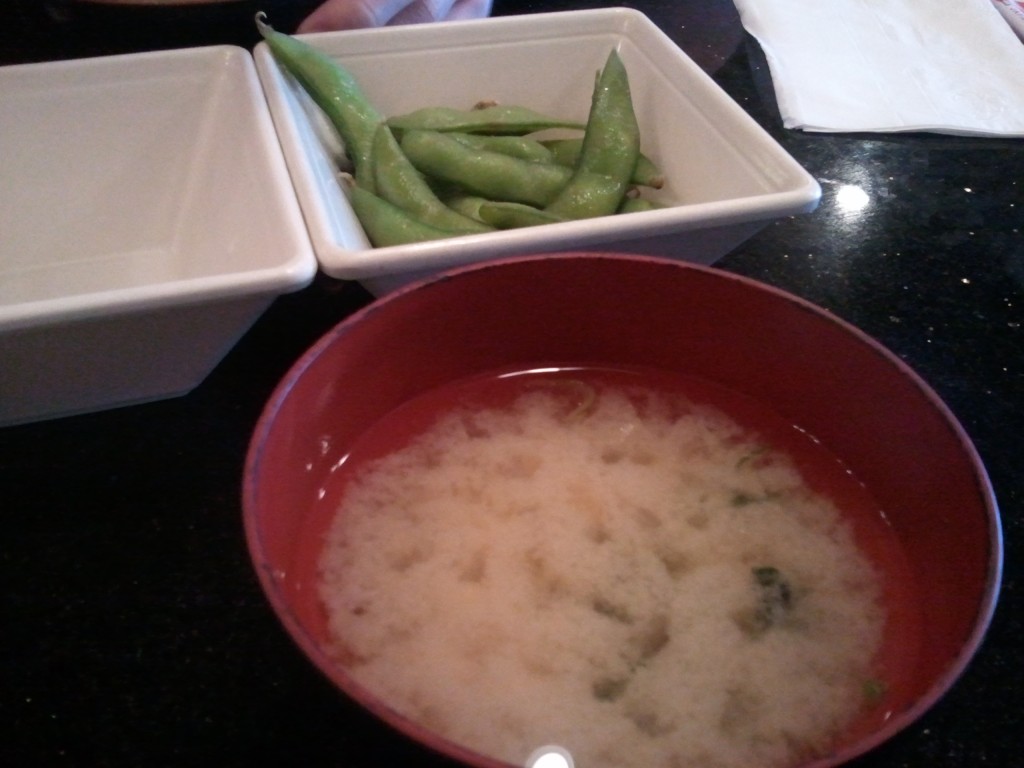 (The miso soup tasted pretty good. Not too salty, yet not too flavorless.)
As it took a while for our rolls to come out, the waiter actually came out to apologize for the wait, and brought forth for us a complimentary dish of Gyoza. In my perspective, I didn't think we actually waited that long, but who doesn't like complimentary dishes? It definitely made me and my stomach very happy indeed.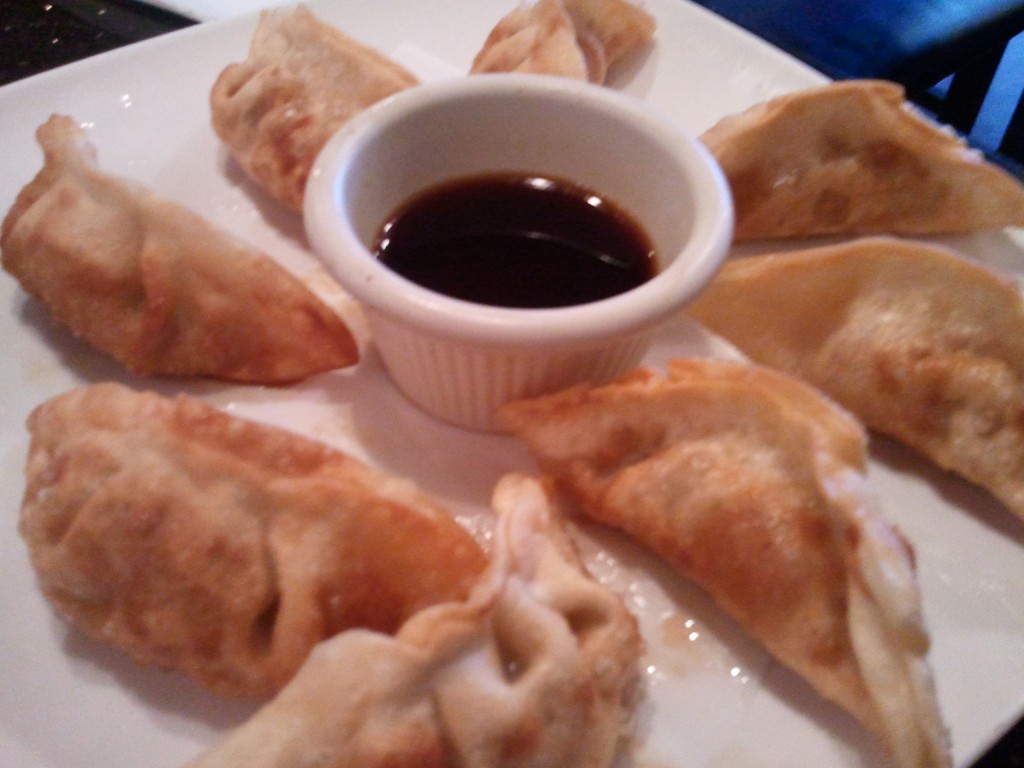 The gyoza was crispy on the outside, and the skin was not too thick (which was really nice!). It came out steaming hot and oh-so-delicious! I could not stop myself from eating these little fried dumplings even if they burned my tongue.
After completely chowing down on the gyoza, our waiter brought out our three rolls:
1. Never Ending Roll (Deep Fried Shrimp, Unagi, Cream Cheese, Tuna, Avocado) -personal favorite!
2. Godzillar Roll (Hamachi, White Tuna, Spicy Sauce)
3. Lady Gaga Roll (House made Crab Cake, Cucumber, Spicy Tuna)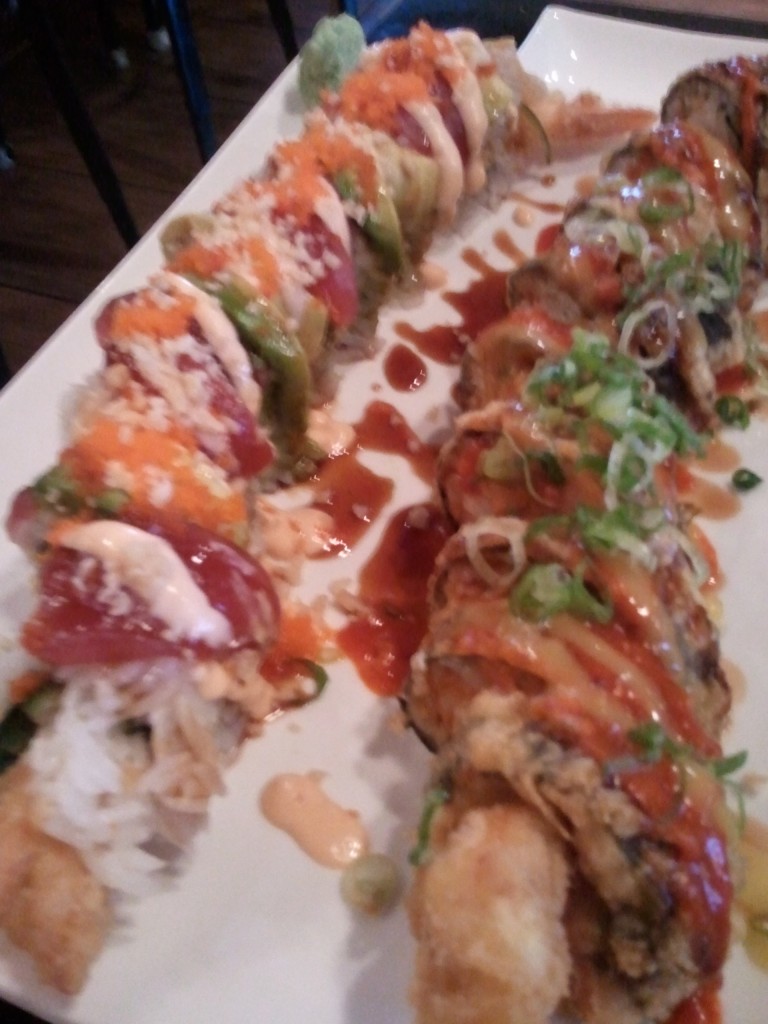 *sorry for the blurry images, I took it on my old phone.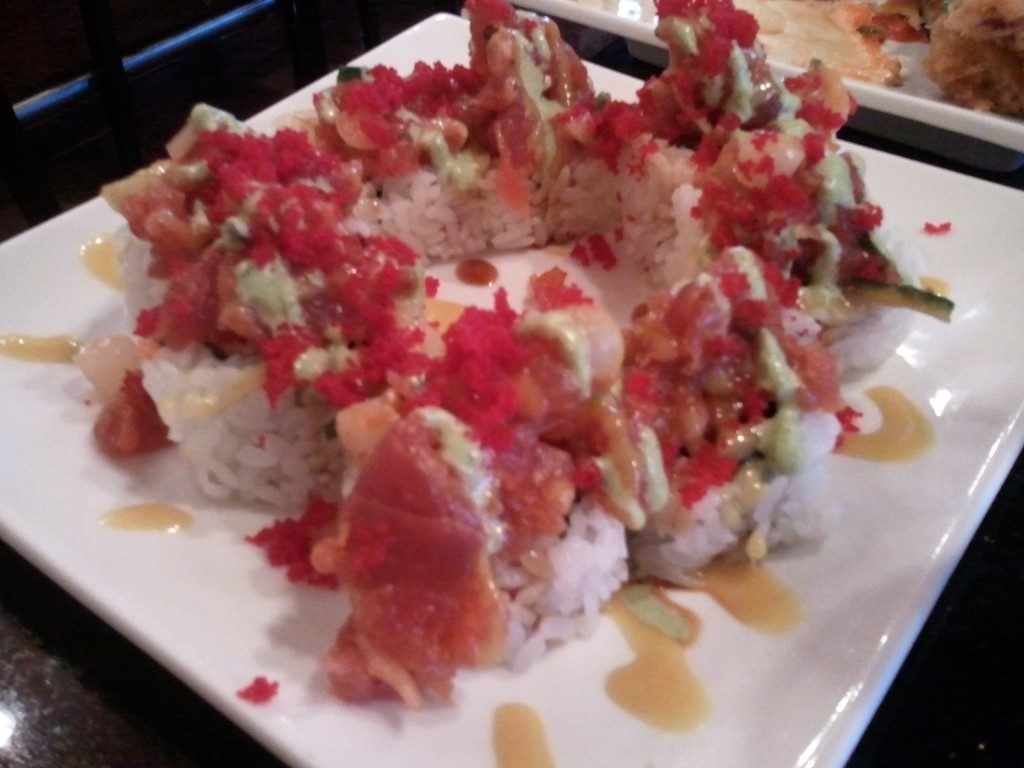 Notice how the rolls are all so huge! :O
Personally, my favorite roll was the Never Ending Roll as I'm a huge fan of basically all the ingredients in there (especially tempura shrimp). My friend really enjoyed the Lady Gaga roll as the crab cake in it was very fresh and juicy. The tuna for all three rolls was pretty good and decently fresh. I would say that it's not "amazing/ fresh" enough for sashimi like some of the other restaurants I've been to; however, in terms of putting it on sushi rolls, it complemented the dish very well.
Lastly, for dessert, we got the Tempura Green Tea Ice Cream (aka Fried Ice Cream). Actually, this was the main reason why my friend and I came to this restaurant as I had a particular craving for fried ice cream, and this restaurant came up on yelp after I searched for that dish.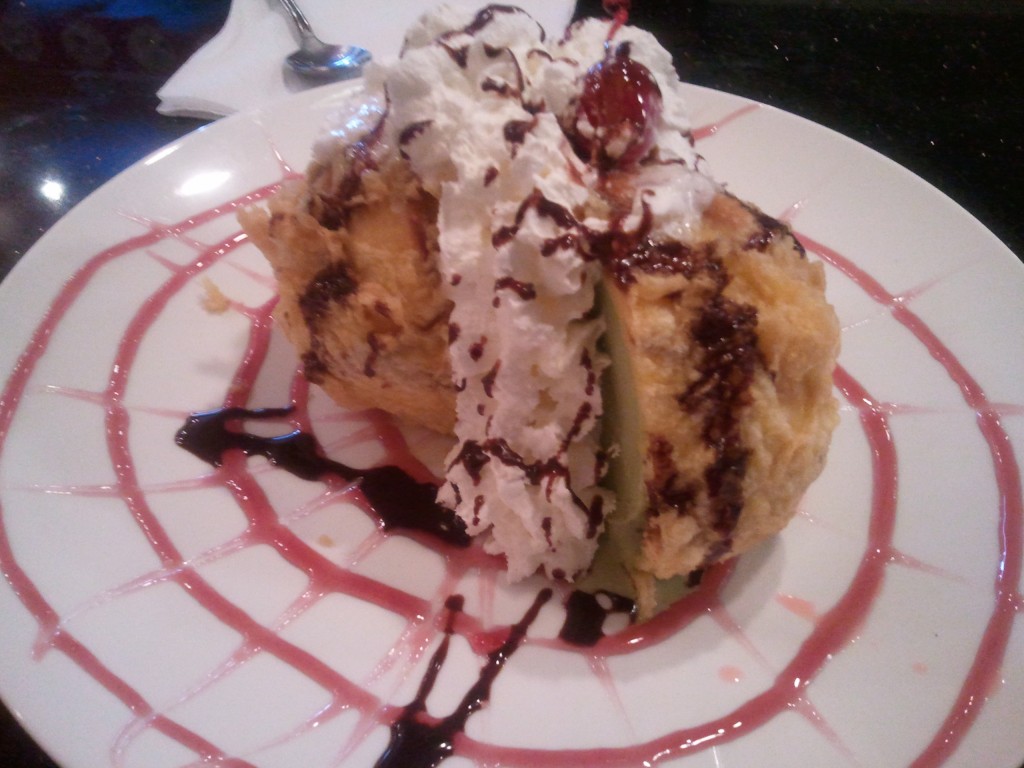 If I wasn't so stuffed from all the appetizers and the sushi rolls, I would've definitely scarfed this entire baby down. However, by the time our dessert came out, I was stuffed to the max (even my pants were feeling quite snug!). But all factors aside, this dish was the perfect ending to a meal. I mean, look at that beauty! Fried batter over a creamy green tea ice cream, topped with whipped cream and decorated with chocolate sauce and strawberry jam. To amazing for words!
Also, the one main thing that I liked about this restaurant was their menu. They organized the listing of sushi rolls based on the different fishes used as toppings. For example, if you are a tuna fan, they have a "Tuna is my Type" list. Or if you're a Hamchi fan, they have a "Hamachi is so yami" list. Cute eh?
But if you ever plan on filling up quickly with good food (and enjoy a dessert) at a decent price, this is the place to go!
Maneki Sushi
31810 Alvarado Blvd
Union City, CA 94587
(510) 489-1077