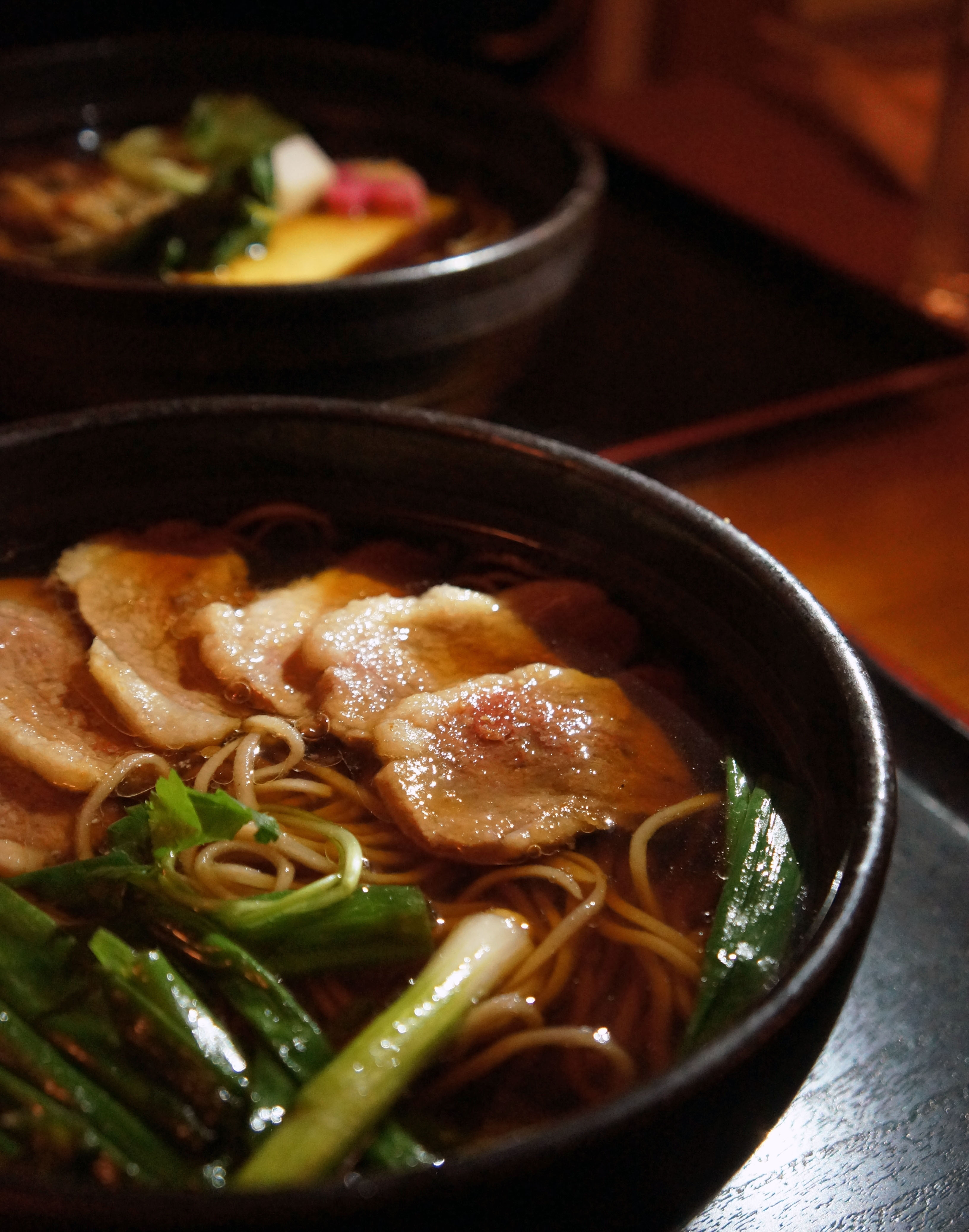 Soba: a typical Japanese thin noodle made from buckwheat flour. Dishes made with soba can be served either hot or cold, making it a delectable treat all year round! Enjoy the cold soba (such as mori soba) during the sweltering hot summer days or feast on the piping hot soba dishes (such as kake soba) during the cold winter storms.
Soba-ya has been open in the East Village since 1998, and it prides itself on making fresh homemade noodles (whether it be soba or udon). Right when you step into the restaurant, your nose will be met by the delicious aroma of fresh scallions, stewed vegetables, and exotic broth. Not to mention, the decor inside made me feel as though I was truly walking into a restaurant in Japan – the wooden walls, the asian calligraphy artworks, and simple clean decorations all helped me feel extremely relaxed.
I decided to come here and catch up with a good friend of mine after a long day of work. Being that the weather was still unpleasantly cold, we both decided to order the hot soba dishes. To start off, we first ordered the Tempura appetizer.
This platter came with an assortment of shrimp and veggies (including zucchini and pumpkin). The tempura was absolutely amazing. The fried batter was not too oily, and overall it had the perfect crisp to it.
Next came our main dishes. I ordered the Kamo Namban, which is a hot soba dish with thin slices sautéed duck and green onion. My friend ordered the Kake Soba (I believe), which is a hot soba dish topped with tamago (which a type of Japanese omelette made by rolling the cooked egg into layers), some veggies, and a fishcake. I have to admit, the items in her dish complemented her soba gorgeously as the pink fishcake and yellow egg added a beautiful splash of color onto the dish.
Even though the broth was flavorful and the noodles were amazingly fresh, the downside to my dish was actually the duck! It was a little too tough for my poor little teeth to chew on. Perhaps it was just my bowl, as the Kamo Namban is one of the main dishes that many people on Yelp raved about.
I really enjoyed the broth for her dish. It was a little more sour than mine, but that just helped intensify the flavor of the tamago and noodles making it a extremely refreshing treat in every bite. The noodles were perfect with a great chewy and fresh consistency.
Finally, it came down to dessert. Though we were both overly stuffed from our dishes, we still decided to order the Ice Cream as this place has extremely exotic flavors listed. We ended up trying the Black Sesame (which is a flavor I normally adore, but it's oh-so-hard to find unless I venture all the way to Chinatown or Flushing), Green Tea, and Wasabi. The wasabi ice cream was definitely the reason why I decided to go for dessert. I mean, where would you ever find this flavor? I simply HAD to try it.
The speckled one is the black sesame flavored ice cream. The dark green one is green tea flavored, and the cream colored one is the wasabi flavor.
The Black Sesame flavor was very generic and enjoyable (especially if you like black sesame normally). The Green Tea ice cream was a very intense flavor – more so than the ones that I have tried at Asian ice cream parlors. It tasted just like Matcha Green Tea without the overdose of sugar and cream that is normally used to make ice cream. Personally, I enjoyed it immensely.
The Wasabi flavor was definitely a shock to me. I have never been a fan of wasabi but this ice cream was so interesting I couldn't help but eat more. On the first bite, you can only taste the sweetness of ice cream ("tastes just like vanilla ice cream" – I said), but after you swallow, you are suddenly overcome by the sharp tingling sensation in your nose that you get from eating straight up wasabi. So weird, yet so cool! However, after a few more spoonfuls, my poor nose couldn't handle any more of the wasabi torture.
However, if you are ever around the East village area, I recommend stopping by this lovely place to have a quick bite. What's even better is their early bird dinner special, which is held Monday thru Thursday from 5:30 – 7:30pm. You can get an assortment of appetizers, tempura, soba, inari-sushi, and dessert for only $18. Quite a good deal in NYC!
Soba-Ya
229 East 9th St
New York, NY 10003
(212)553-6966